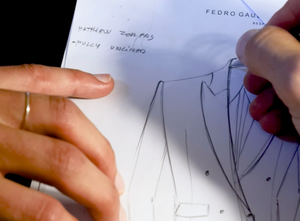 Design Appointment
With Master Tailor Fedro Gaudenzi's insight and guidance you will discuss your needs, preferences, and wardrobe requirements.
Once you have decided the garment or garments that you wish to have made, Fedro will select the best options of fabric from our library of over 12,000 different types of cloths.
With the fabric selected, Fedro will sketch your garment while finalising together style and design details. Full body measurements and posture analysis are noted and if requested the original hand drawing is provided to you on the day.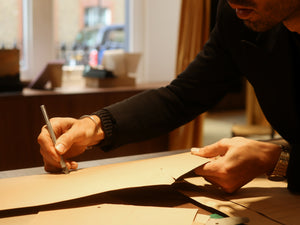 Pattern Drafting
Based on the over 30 measurements taken at the first appointment and utilising traditional technique, Fedro will carefully drafts each individual pattern on card from scratch, taking into consideration your posture, body shape and style requirements. Fedro's own hand drafting method draws from both Italian and British schools, and gives every piece the unique FEDRO GAUDENZI signature house cut.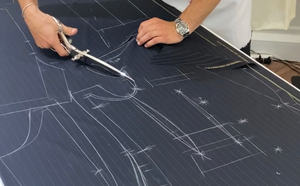 Cutting
The cutting of the cloth is one of the most crucial moments of your bespoke piece. Bespoke tailoring goes by the saying "think twice and cut once". After transferring each personal paper pattern to the cloth with chalk, all the style elements of your piece are drafted free-hand directly on the cloth. Inlays are marked, so that the garment can be adapted in the future, and the cloth is then cut out by hand using sheers.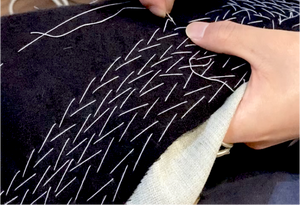 Making
Based on your design Fedro will select the best natural canvases, such as horse hair, linen or wool, that will give your piece our signature silhouette. Once that is done your garment is assigned to one of our experienced tailors who will put it together by hand for your first 'baste' fitting, a pivotal stage of each bespoke garment.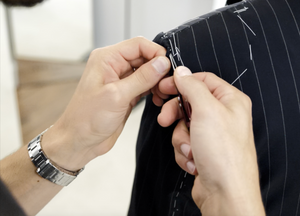 Baste Fitting
At the first or "baste fitting" of your Bespoke piece many decisions can be made or altered, from the shape of the lapel to the number and placement of coat pockets, or removal of trouser pleats. Last but not least, this fitting plays a vital role enabling Fedro to further perfect your garment to fit and enhance your posture.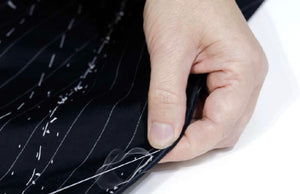 Marking Up
Following your Baste fitting the garment is then completely taken apart, re-marked and re-cut with all adjustments noted during the fitting. Any readjustment is updated to your personal paper pattern for future orders, and your garment is then given back to the tailor who will put it together for your next fittings: the Forward & Finish bar finish fittings.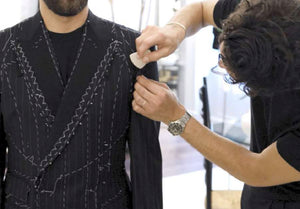 Forward & Finish bar finish fitting
Throughout the next fittings, alterations and amendments are refined, giving your garment its perfect fit. Between fittings, your garment is brought closer to completion and the tailor working on your piece continues to work following Fedro's markings and edits.

- For first-time customers, 2-3 fittings are usually required between the baste fitting and delivery in order to achieve the perfect fit.-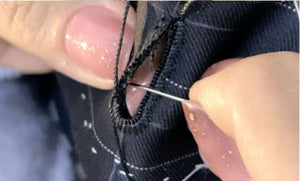 Finishing
Once the perfect fit is achieved our skilled finisher fully hand-finishes your garment, hand-making each buttonhole and hand-finishing your piece inside out, from stitching the linings to edge-stitching the lapel, depending on your design. Remember that for every baste stitch (white thread used during fittings) there are 20 hand stitches.

Only the best natural fibres are used to finish your garments, from 100% Silk buttonhole twist to hand silk thread.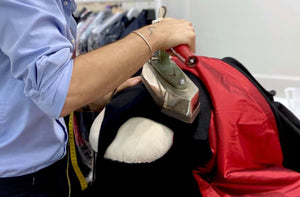 Final Press
The final press is a fundamental last step. Beyond making sure that your bespoke garment is crisp and wrinkle-free, it allows the inside canvases and inlays to settle and harmoniously drape with the cloth, giving your bespoke piece a sharp finish perfectly shaped to your specific cut, style and body posture.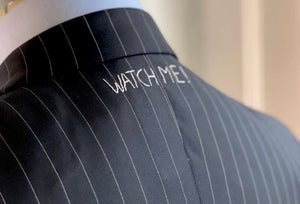 Final Fitting & Delivery
Your garment is ready for your final fitting and delivery.

At the fitting, Fedro will advice you on how to best care for your garment and hand-over your bespoke piece in a breathable suit bag and custom-engraved wooden hanger.

Each of our bespoke garments is logged and coded, giving us immediate access to all the information about your piece from materials used to trimmings and pattern. This means that subsequent orders will require fewer fittings, making the process of your next bespoke garment much quicker.